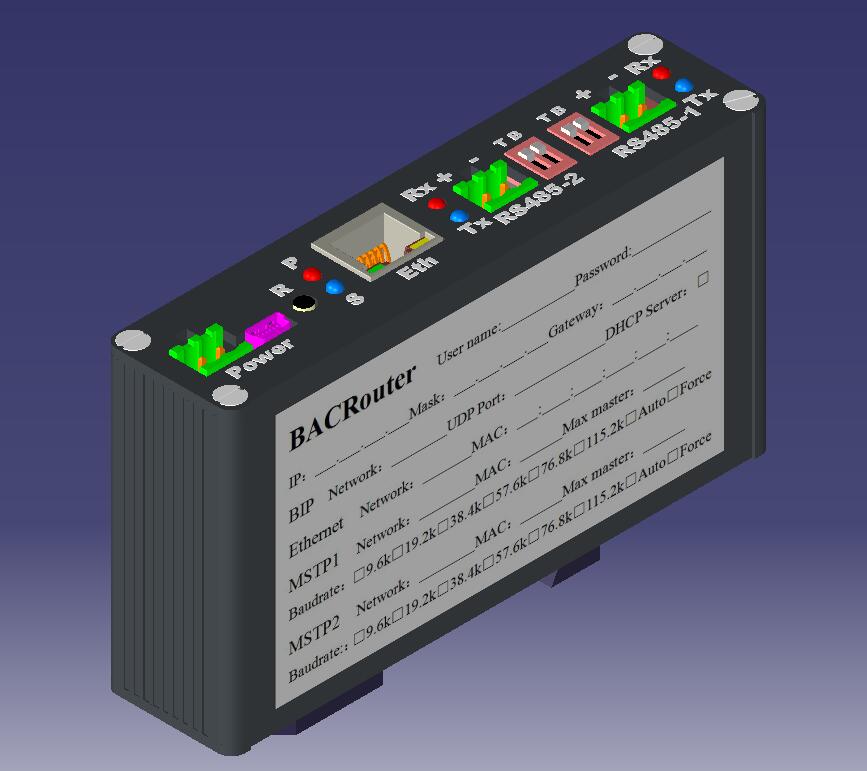 New packet capture feature for firmware 3.x
The BACRouter is a BACnet router, routing between BACnet networks such as BACnet/IP, BACnet Ethernet, and BACnet MS/TP. The BACRouter has below features:
MSTP
Ethernet
10/100 Mbps with auto-negotiation and Auto-MDIX
Green LED indicate activity.
IP
Supports up to 10 BACnet/IP Annex J networks on different UDP port.
Has two compatibility options: receive global broadcast; accept unmatched destination IP.
Supports 3 different mode: Normal, BBMD mode and Foreign Device mode.
BBMD mode(as BACnet/IP Broadcast Management Device) supports up to 148 BDT and FDT entries, supports BDT propagation to other BBMDs, supports NAT.
Avoid BBMD broadcast storm.
Routing
Designed for complicated BACnet inter-network, performance is stable even with 65534 networks.
Fast response to network topology changing, easily recover from configuration mistake.
Avoid broadcast storm in inter-network with circular routing path.
Packet Capture
Supports capture on all ports. Captured packets could be downloaded as Wireshark PCAP format.
MSTP extened frame will convert to normal data frame on downloading to be decoded in Wireshark.
MSTP packets could be downloaded as "Interval format" to show exactly idle time before frame in Wireshark. It is very helpful to analyze timing and performance problem.
Continuous download is supported. Automatic traffic logging is possible with the API.
Capture control is mapped to BACnet multi_state

_

value objects. The scene of problem could be locked for further analyses by program when something is going wrong.
Commission
WebUI is password protected and supports several browsers: IE, Firefox, Chrome, Safari.
Configuration could be downloaded as file, or restored by uploading from file.
Supports powering by mini USB.
Easy to install with DIN rail fastener ready on metal case.
Full DHCP support for convenient PC configuration.
Reset button to restore default settings.
Power LED and Status LED indicates device status.
Very detailed runtime info and logs available for diagnostic purpose.
DataSheet     PICS     Firmware     Feedbacks     Contact us
Directly order
We ship to worldwide customers by UPS/Fedex/DHL/TNT/DPEX/Aramex/EMS, It usually takes 5~8 days to arrive depends on location.  Freight is counted automatically.
ATTN: If the version of BACRouter your get is still on old version, you could download new firmware from the link above, then upgrade it as described in datasheet.
$99USD