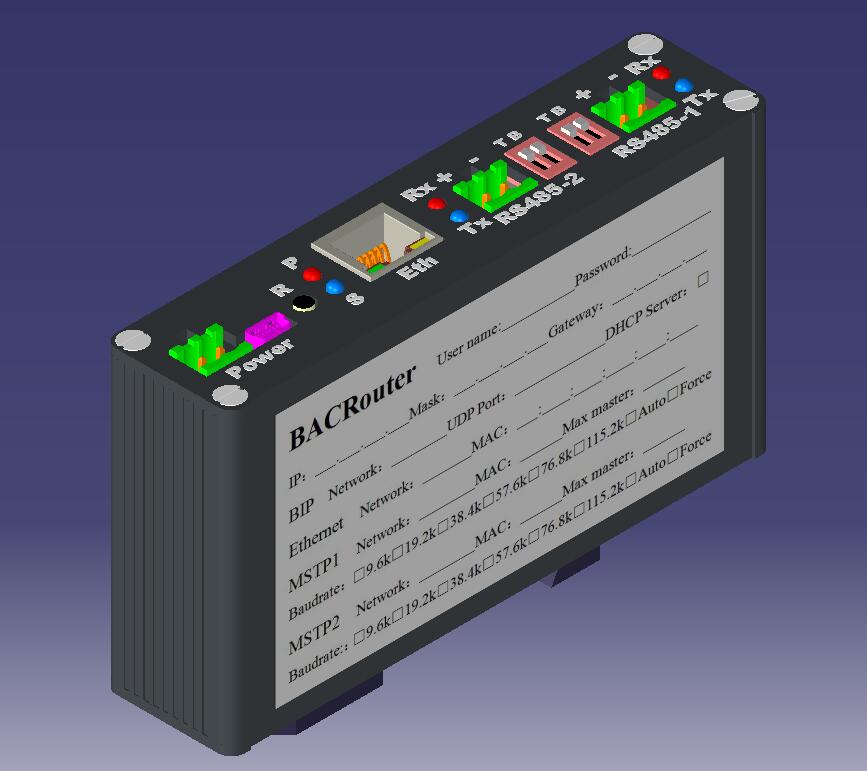 The BACRouter is a BACnet router, routing between BACnet networks such as BACnet/IP, BACnet Ethernet, and BACnet MS/TP. The BACRouter has below features:
MSTP
Two (BACRouter-S only has one) 1500V individually isolated transceivers. 15kV(Air) 8kV(contact) ESD protection, will withstand wiring errors up to 220VAC.
Baudrates range from 9.6kbps~115.2kbps. Supports auto baudrate and baudrate forcing.(Patent pending).
EIA-485 A/B lines are reversible. Supports auto detect polarity from bus biasing on the fly.
1/8 load, low capacitance design, supports 256 nodes on 115.2kbps with 900m cable length.
Dip switches for 510Ω bus biasing(pull up and pull down) and 120Ω termination.
Supports fast device with 0ms timeout (Patent pending). speed up polling master and scanning device.
Supports Slave proxy with user definable auto discovery range and manual binding.
Supports network priority, message delay is guaranteed within 6 seconds.
Accurate timing and collision detection avoids frame desynchronization, thanks to timer of 5us granularity and real-time OS, 99.6% bandwidth utilization is achieved on 115.2kbps.
Supports sniffer mode to analyze and record data without interfering the bus
Detects duplicated MAC, current max master, recently active MAC on the fly
Tx and Rx LED's in each port indicates individual port status.
Ethernet
10/100 Mbps with auto-negotiation and Auto-MDIX
Green LED indicate activity.
IP
Supports up to 10 BACnet/IP Annex J networks on different UDP port.
Has two compatibility options: receive global broadcast; accept unmatched destination IP.
Supports 3 different mode: Normal, BBMD mode and Foreign Device mode.
BBMD mode(as BACnet/IP Broadcast Management Device) supports up to 148 BDT and 148 FDT entries, supports BDT propagation to other BBMDs, supports NAT.
Misconfigured BBMD will be detected in runtime.
Avoid BBMD broadcast storm.
Routing
Is designed for complicated BACnet inter-network, performance is stable even with 65534 sub-networks.
Fast response to network topology changing, easily recover from configuration mistake.
Avoid broadcast storm in inter-network with circular routing path.
Packet Capture
Supports capture on all ports. Captured packets could be downloaded as Wireshark PCAP format.
When downloading MSTP extended frame will be converted to normal data frame that could be decoded in Wireshark.
MSTP packets could be downloaded as "Interval format" to show exactly idle time before frame in Wireshark. It is very helpful to analyze timing and performance problem.
Continuous download is supported. Automatic traffic logging is possible with the API.
Capture control is mapped to BACnet multi_state

_

value objects. The scene of problem could be locked for further analyses by program when something is going wrong.
Commission
WebUI is password protected and supports several browsers: Edge, Firefox, Chrome, Safari.
Most config error will be detected by WebUI to avoid debugging on runtime.
Supports powering by mini USB.
Easy to install with DIN rail fastener that is ready on metal case.
Full DHCP support for convenient PC configuration.
Reset button to restore default settings.
Power LED and Status LED indicates device status.
Very detailed runtime info and logs available for diagnostic purpose.
Directly order
We ship to worldwide customers by UPS/Fedex/DHL/TNT/DPEX/Aramex/EMS. Freight would be counted automatically.
BACRouter: $109USD

BACRouter-S: $89USD